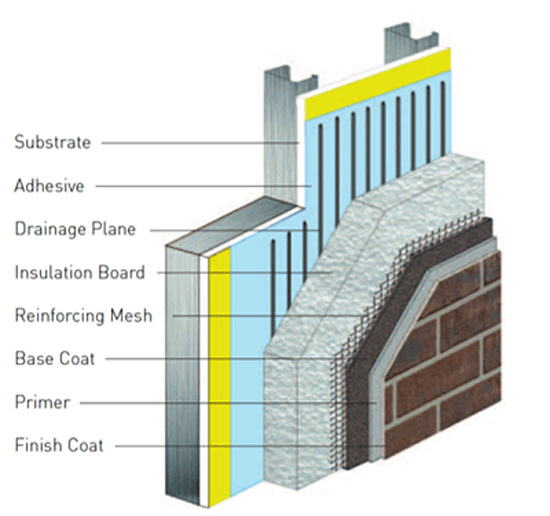 EIFS (Exterior insulation and finishing system) is a building cladding system used in the construction industry that provides exterior walls with an insulated, water-resistant, finished surface in an integrated composite material.
What EIFS is Best For
EIFS can be installed on any type of construction, masonry buildings and wood framed buildings, residential and commercial.
EIFS may be used for the following:
Foam plastic insulation
Provides weather protection
Architectural style
EIFS Components
EIFS is a multi-layered wall system that consists of the following components:
Insulation Board – Made of polystyrene (or similar material), which is secured to the exterior wall surface.
Base Coat – Applied on top of the insulation and reinforced with fiber mesh.
Finished Coat – Applied on top of the base coat giving a durable, crack-resistant finish.
Types of EIFS
PB EIFS (polymer based) is the most common type in North America and historically used expanded polystyrene (EPS) insulation adhered to the substrate with fiberglass mesh embedded in a nominal 1/16 inch (1.6 mm) base coat which can receive additional layers of mesh and base coat for stronger impact resistance.
PM EIFS (polymer modified), use extruded polystyrene insulation (XEPS), and a thick, cementitious base coat applied over mechanically attached glass fiber reinforcing mesh. The system has joints similar to traditional stucco. PM EIFS have evolved to include different insulation materials and base coats.
EIFS Installation
EIFS is a lightweight synthetic wall cladding that includes foam plastic insulation and thin synthetic coatings.
For water infiltration problems causing damage to buildings the recommended systems include a drainage plane to let water drain down and out from behind the cladding.
EIFS with drainage typically consists of the following components:
An optional water-resistive barrier (WRB) that covers the substrate
A drainage plane between the WRB and the insulation board that is most commonly achieved with vertical ribbons of adhesive applied over the WRB
Insulation board typically made of expanded polystyrene (EPS) which is secured with an adhesive or mechanically to the substrate
Glass-fiber reinforcing mesh embedded in the base coat
A water-resistant base coat that is applied on top of the insulation to serve as a weather barrier
A finish coat that typically uses colorfast and crack-resistant acrylic co-polymer technology.
Adhesives and finishes are water-based, and thus must be installed at temperatures well above freezing. Two types of adhesives are used with EIFS: those that contain Portland (cement), or do not have any Portland cement (cementless). Adhesives that contain Portland cement harden by the chemical reaction of the cement with water. Adhesives and finishes that are cementless harden by the evaporation of water. Adhesives come in two forms: The most common is in a plastic pail as a paste, to which Portland cement is added and as dry powders in sacks, to which water is added. Finishes come in a plastic pail, ready to use and EIFS insulation comes in individual pieces, usually 2′ x 4′, in large bags. The pieces are trimmed to fit the wall at the construction site.
Another benefit of EIFS is the option to add architectural details that are composed of the same materials.
EIFS Services Where to Provide
EIFS services are available here at www.atlaro.com.