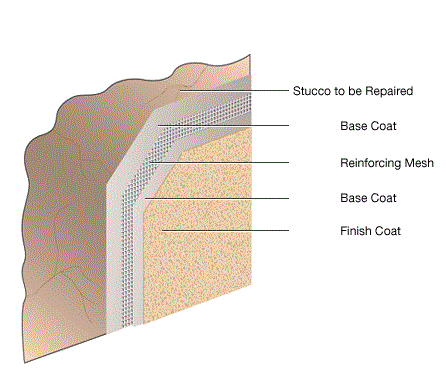 Re-stucco is a process that consists in repairing damaged stucco, with a patch or recoating the entire wall surface.
When Re-Stucco is Needed
If your stucco is cracked, bulging, chipped or missing in some sections, repairs are necessary to prevent additional damage from water seeping in behind the siding.
Inadequate plastering, gutter and flashing problems or excessive moisture from ventilation, poor drainage, or groundwater can cause a number of issues with stucco.
Re-Stucco may be used for the following:
Repairing damaged stucco can restore the appearance of your building's exterior and prevent additional damage from water penetration.
Re-Stucco Components
Base Coat
Fiberglass mesh
Finish Coat
How Re-Stucco Works
The re-stucco process begins with cleaning, covering and protecting around and the problem area, followed by scraping off any excess or loose material.
The base coat, a material composed of cement and glue, embedded with fiberglass mesh, is applied in one or two layers with 24 hours of drying time after each application.
The final step is the finish coat, matching the existing color of stucco as close as possible.
Re-stucco services are only possible if the damage to the stucco is still minor. Since it is difficult to perfectly match the existing color of stucco with a patch, your contractor may recommend recoating the entire wall surface when the repair is complete.
If the damage proves to be too extensive, a complete removal and replacement may be your only option.
Re-Stucco Services Where to Provide
Re-Stucco services are available here at www.atlaro.com.